(UPDATE, 5/2019: In early 2019 I did some consulting for a test prep site called Olive Book. Usually I find test prep a little depressing – it's the apotheosis of education-as-competition, the triumph of assessment over the thing being assessed – but in this case I'm proud of the project and the work, which aims to bring some authentic mathematics and real thought to the test prep experience. Worth checking out if you or a student you know is preparing for the ACT! Until 9/15/2019, you can get free enrollment with the coupon code MATHWITHBADDRAWINGS.)
In November 2017, as part of a reader survey, I asked: "What other web site do you consider most similar to Math with Bad Drawings?"
I had planned to keep the answers for my own selfish perusal. But several folks asked to know what others said, and as a mere weathervane spinning in the winds of popular opinion, I am powerless to resist. So here you go.
As it turns out, there is a simple answer: xkcd.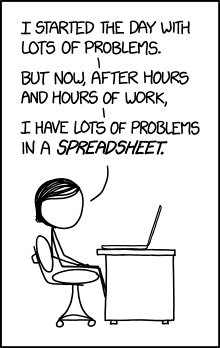 In all, xkcd got 150 votes (if you include things like "xkcd?" and "xkcd maybe? but also not really"), ten times more than the runner up. That makes sense. This blog doesn't much resemble xkcd, but certainly rides in its stick-figures-and-math-jokes-and-occasional-sentimentality wake.
After that, the most popular answers were:
16 votes: Vi Hart's YouTube Channel (including the beloved and timeless "bored in math class" doodle videos)
10 votes: Saturday Morning Breakfast Cereal (a geeky webcomic that hits some real heights of existential bliss and depths of psycho-sexual darkness)
9 votes: Spiked Math (a mathematical webcomic)
6 votes: Wait But Why (a long-form stick-figure-illustrated explanatory blog)
Beyond that, a handful of sites got three votes each:
Numberphile (the royalty of YouTube mathematics)
Roots of Unity (mathematician Evelyn Lamb's playful, well-written blog for Scientific American)
PhD Comics (the gold-standard academia webcomic)
Hyperbole and a Half (the funniest bad-illustrated blog around)
dy/dan (the blog of math teacher Dan Meyer, fountain of 1000 great ideas and host of 1001 wonderful discussions in the comments)
Awkward Yeti (an adorable webcomic)
Here is the complete list of other recommended sites, loosely organized by category, and weeding out the inexplicable ones (the BBC?). Anything that received multiple votes is bolded.
WEBCOMICS
(if you're here for the jokes)
MATH
(if you're here for the Greek letters)
Terry Tao [winner of the "most flattering and ill-fitting comparison I'll ever get" award]
MATH EDUCATION
(if you're here for the teacher chats)
Continuous Everywhere But Differentiable Nowhere
YOUTUBE CHANNELS
(if you secretly prefer video to stick figures)
COMPUTER SCIENCE
(if you are a traitor to math)
Chris Albon's Machine Learning Flashcards
MEMES
(if you are a child of the interwebs)
Mathematical Mathematics Memes
BLOGS
(if, unlike the interweb children, you actually like to read things)
Slatestarcodex [runner-up in the "most flattering and ill-fitting comparison I'll ever get" award]
Brief Histories of Everyday Objects
If you've got other suggestions, feel free to leave them in the comments below! Please suggest only others' sites, not your own – I think a list of endorsements will be more useful for people than a list of classifieds.